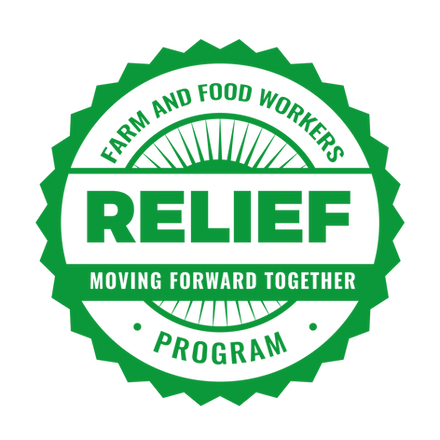 Farm and Food Worker Relief (FFWR) is a one-time assistance program. If you have applied for relief with another organization you might not qualify under our program, and if you have already received a $600 payment, your application will be ineligible.
Funding for assistance is limited and not guaranteed.
Be Aware of Fraud and Scams! There is no cost to apply for the program and no one should pay to complete the application.
To start the application process:
Text the keyword FARMWORKER or FOODWORKER to 211-211
Eligible applicants can only apply once.

Multiple applications will be denied.
Who Qualifies:
Frontline workers who worked in California at any given time during the COVID-19 pandemic from March 2020, until May 11, 2023.

Workers who were at least 13 at the time they worked.  

Workers who self-certify that they incurred expenses due to the pandemic, such as the purchase of masks, hand sanitizers, face shields, goggles, gloves, COVID tests, and/or childcare.

Workers who self-certify that they have not received this relief from another agency or organization. 
Farm and food workers do not have to have suffered storm loss to qualify, but the good news is that this program is available to assist farm and food worker families in areas affected by the storms.
Due to the high demand and urgency that the recent storms have created, we are encouraging people to text us (instructions below). We will then work with our local United Way partner to contact those households and start an application for assistance. In this way, we can process applications in an orderly manner to ensure timely payments, while working with our United Ways in regions affected by the storms to prioritize serving areas with the greatest need.
What is Required:
Applicants will need to provide proof of identification (note that proof of citizenship is not required) and proof of employment:
Examples of some acceptable identification documents:

State Identification or Driver's License 

Consular or Government Issued Identification (Foreign or Domestic) 

School Issued ID 

Examples of some employment documentation:

Paystubs 

W-2 Tax Form 

Employer Written Attestation
Disclaimer: Due to a high demand, a large volume of applications, and limited funding, United Ways of San Joaquin County cannot guarantee that all submissions will be processed and/or that a payment will be made; even when an application has been submitted and deemed eligible.  Once our grant funds are exhausted we will be unable to deliver payment. 
---
FFWR es un programa de asistencia de una sola vez. Si solicitó alivio con otra organización, es posible que no califique para nuestro programa, y si ya recibió un pago de $600, su solicitud no será elegible.
El financiamiento para la asistencia es limitado y no garantizado.
Tenga Cuidado con Fraudes y Estafas! No hay ningún costo para aplicar para el programa y nadie debe pagar para completar la solicitud.
Para comenzar el proceso de solicitud:
Textear la palabra CAMPESINO o CAMPESINA al 211-211
Las personas elegibles pueden aplicar solo una vez.

Múltiples solicitudes serán negadas.
Quien Califica: 
Trabajadores obreros quienes trabajaron en California por lo menos una hora durante cualquier momento durante la pandemia de COVID-19 entre marzo del 2020, hasta cuando la pandemia se haya declarado finalizada.

Trabajadores quienes tenían por lo menos 13 años de edad cuando trabajaron. 

Trabajadores quienes pueden certificar que incurrieron en gastos por la pandemia, tales como, compra de máscaras, desinfectantes para las manos, protección para la cara, gafas de protección, guantes, exámenes de COVID, y/o cuidado de niños, entre otros.

Trabajadores quienes pueden y certificar que no han recibido este alivio de parte de otra agencia u organización.
Que se Necesita: 
Los solicitantes necesitarán proveer un comprobante de identidad y una verificación de empleo.
Ejemplos de algunos documentos de identidad que son aceptables:

Tarjeta de Identificación Estatal o Licencia de Conducir

Matrícula Consular o Tarjeta de Identidad proporcionada por un Gobierno Estatal Extranjero, o Doméstico

Carnet Escolar 

Ejemplos de algunos documentos de para verificación de empleo:

Talon de Cheque 

Formulario de Impuestos W-2 

Declaración, Certificación, Atestación de Empleador por Escrito
Exención: A consecuencia de la alta demanda, el gran volumen de solicitudes, y fondos limitados, United Ways de California no garantiza que toda solicitud será procesada o que algún pagos se van hacer; incluyendo solicitudes que se hayan sometido y determinado elegibles. Una vez los fondos se hayan agotado no podremos hacer entrega de pagos.