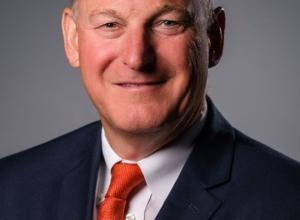 University of the Pacific Chief Operating Officer
Mr. Mullen joined Pacific as the Assistant Vice President/Controller in 2011 and was shortly thereafter promoted to Associate Vice President for Business and Finance. In 2014, Mr. Mullen was named Vice President for Business and Finance and in 2022, was named Chief Operating Officer.
Prior to joining Pacific, he served as Assistant Vice President for Business and Finance at Elon University in North Carolina from 2001-2011   and as the Elon University Comptroller from 1993-2001. He also served as the Comptroller at the New York Botanical Garden, Institute of Ecosystem Studies, in Millbrook, NY, and as the Administrator for Business Affairs and Budget Analyst at Wayne State University Medical School in Detroit, MI.
His career in higher education and research institutions has spanned more than 35 years. He has an undergraduate degree in Corporate Finance and an M.B.A. with an emphasis in Management from the University of Toledo.