What is MyFreeTaxes?
United Way partners with H&R Block to provide its Premium online tax filing software to help people easily and accurately file their federal and state taxes through MyFreeTaxes if they earned $66,000 or less in 2018. Filers can easily access MyFreeTaxes.com from their computer or the palm of their hand, and can file federal and up to three state returns for free.
2 WAYS TO GET STARTED TODAY:
√ CALL 2-1-1 TO SCHEDULE AN APPOINTMENT OR


√ schedule online at www.myfreetaxes.org.
What is the Earned Income Tax Credit (EITC)
The Earned Income Tax Credit (EITC) is a tax credit for low- to moderate-income working families and individuals. The EITC can help you reduce your tax liability and, in many cases, put money in your pocket.
To qualify for the EITC, you must have worked during at least part of the previous year, meet certain income requirements, and file your taxes. You must file your taxes to receive the EITC, even if you did not earn enough money to be required to file. The EITC benefit is retroactive for three years, so review whether you filed for the EITC in recent years. If you meet the eligibility requirements and have not filed for the previous three years you may be entitled to an even larger refund check!
Who Qualifies for EITC?
The following income guidelines for the 2018 Tax Year will help you determine if you may be eligible for CalEITC. The threshold is based on tax year 2018 EITC AGI (Adjusted Gross Income) limits.

In addition to the Federal Earned Income Tax Credit you may be eligible for CalEITC, an additional statewide Earned Income Tax Credit for low-income households.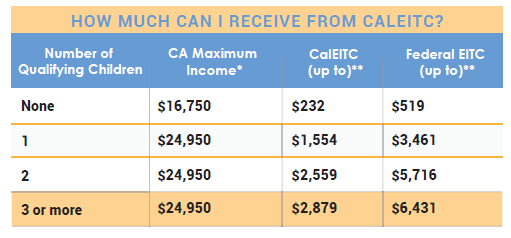 To qualify for the CalEITC, your earned income must be from one of the following eligible sources: W-2 wages, salaries, self-employment, tips, or other employee compensation subject to California withholding. (To learn more, visit the CalEITC website.)
Participation in free tax preparation or any other additional services will not impact CalWORKS, CalFRESH, or Medi-Cal benefits.